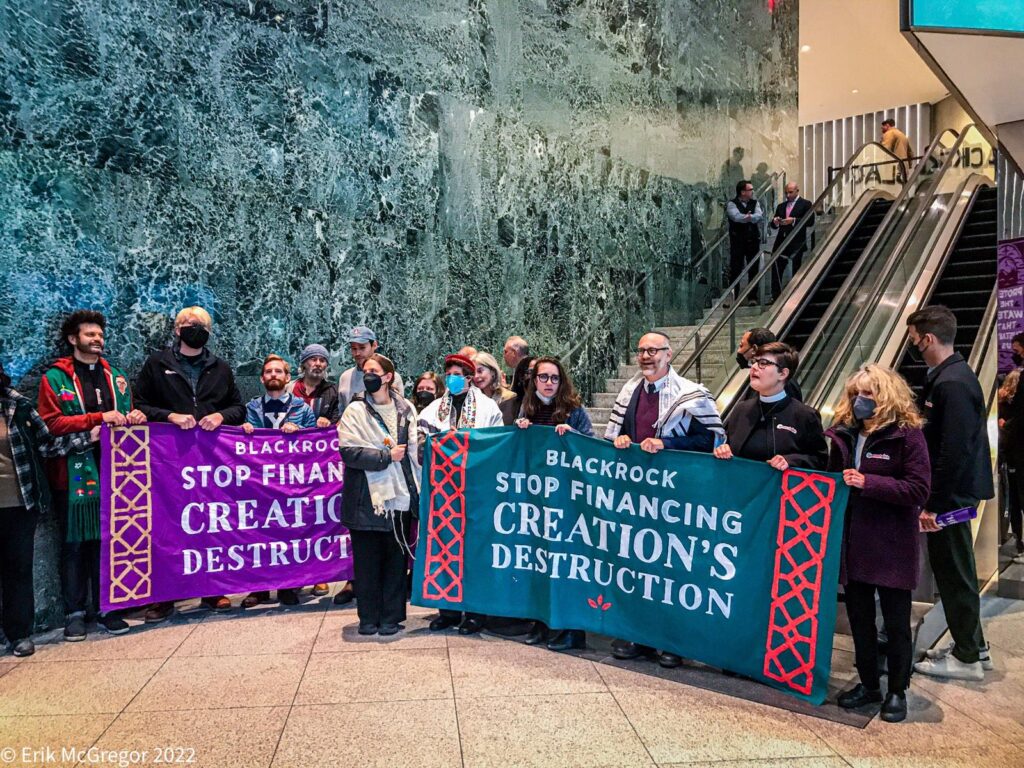 New York, NY – A multi-faith assembly of religious leaders and lay people were arrested today at BlackRock's headquarters in Manhattan while peacefully and prayerfully protesting the financial giant's ongoing investment in fossil fuel corporations that are actively destroying the earth. The demonstration was a coalition of climate action groups that was organized by GreenFaith as part of a global, multi-faith action – Faiths 4 Climate Justice. 
Faith leaders called for an immediate end to new fossil fuel projects and deforestation, and a rapid transition to 100% renewables amid a fair phase-out of fossil fuels. 
"I took action today because the climate crisis is too dangerous to morally do otherwise," said Rev. Schuyler Vogel, Senior Minister at Fourth Universalist Society. "BlackRock has claimed to be a climate ally, but their actions say otherwise. Their hypocrisy will make them complicit in the suffering and death of countless people." 
"The warming of the planet isn't merely a crisis of too much carbon in the atmosphere, it's a spiritual and moral crisis," said Rev. Chelsea MacMillan, an interspiritual minister.  "Corporate executives at BlackRock are making decisions out of greed, willful ignorance, and total disregard for the planet. They can do better than this; they MUST do better than this."  
Protesters marched to BlackRock's headquarters at 55 E. 52nd Street and held a multi-faith ritual service in the ground floor atrium involving prayer and song. A procession of clergy and lay people then peacefully moved into sections of the building where they blocked access to the escalators and thereby workfloors. Twenty eight individuals were arrested by officers of the NYPD.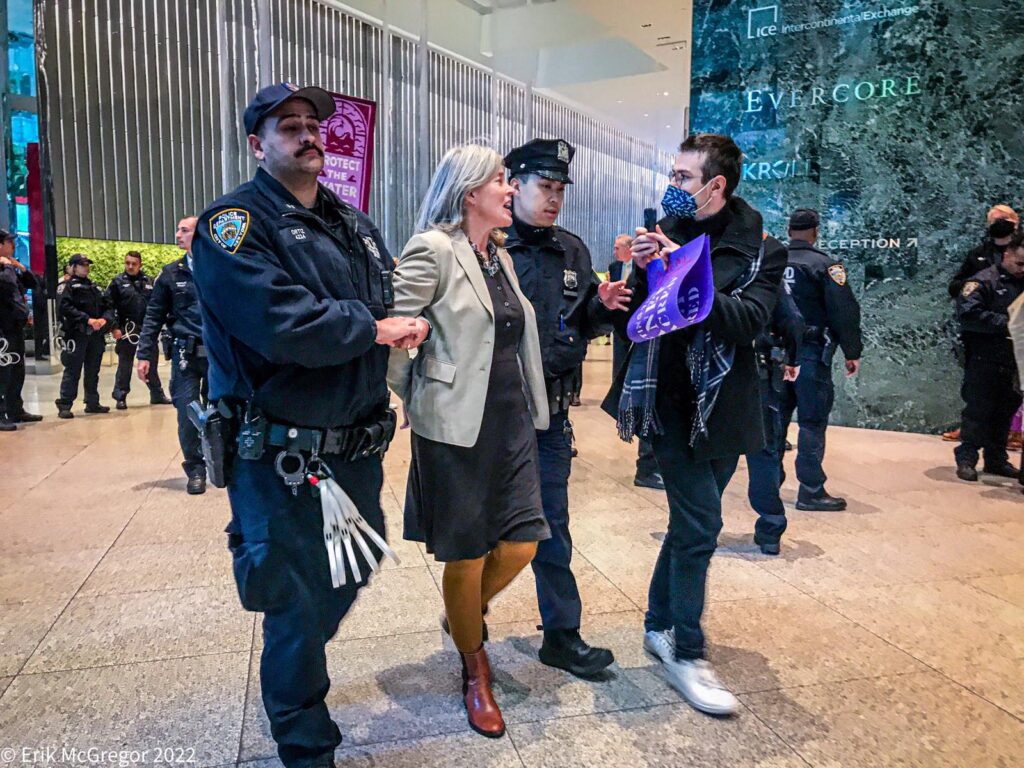 "I am taking action because my heart is aching. I am compelled to act. I am calling on BlackRock to put life, love, beauty and sharing above the insatiable desire for wealth," said Aaron Solomon (Chan Phap Man), a Dharma Teacher in the lineage of Thich Nhat Hanh, who helped organize the protest. "Please be courageous and lead the way to a new model of finance, security and justice. We are running out of time."          
This demonstration kicked off a series of actions taking place over multiple days in coalition with other NYC-based groups, such as New York Communities for Change (NYCC) and Extinction Rebellion (XR), calling for government leaders and corporations to act immediately and aggressively to address the climate emergency. Ten days of actions will culminate in a mass march marking the 10th anniversary of Hurricane Sandy on October 29 starting from 270 Park Ave at 11 AM.
Links: 
ABOUT FAITHS 4 CLIMATE JUSTICE
Faiths 4 Climate Justice is a global multi-faith action with grassroots faith communities taking actions in countries across the world. It is organized by the GreenFaith International Network and Co-Sponsored by over 100 organizations, denominations, and lineages, representing more than 100 million people from Jewish, Muslim, Hindu, Buddhist, Sikh, Jain, Baha'i, Indigenous, Christian, and many more faith and spiritual backgrounds.
Twitter: https://twitter.com/greenfaithworld